Please see our Facebook page for latest news

Please click here




News archives

05.09.13
Greyt Exploitations were invited to the House of Commons on Tuesday as members of the Dog Rescue Federation to discuss welfare issues with MP's and fellow canine advocates. Racing greyhounds were high on the agenda and a 10 page report was handed out to all 80 attendees of the meeting detailing the inherent cruelty of dog racing – how it is in conflict with the Animal Welfare Act and the failure of the self regulating industry to enforce UK law. We also informed the meeting of CAGED North West's excellent Ban the Bolt campaign. We hope to capitalise on this important opportunity and amplify the greyhound's voice – even further - in the corridors of power again in the near future.
28.08.13
Greyhound track manager forgot to dispose of dog
"The dog was put in a secure area behind the kennels, which is bolted and not open to the public, to be kept there until it was disposed of. I was informed it was euthanised that night (June 13) but then forgot all about it."
Click HERE for full story
14.08.13
Just 3 months following his last race and after earning thousands of pounds for the bookmakers - Runaround Paul was handed into the care of Tia Greyhound & Lurcher Rescue scabby – skinny and an emotional wreck. Please click here for further details of Paul and other greyhounds that end up either abandoned or given away free. WALL OF SHAME

03.08.13
On Saturday 3rd August at Newcastle dog track - owned by William Hill bookmakers - 'Shambo Shine' (a 2 year old black male) DID NOT FINISH. He had to be carried off the track and was subsequently destroyed by the track vet. Shambo Shine's usefulness lasted just over 12 months - competing in a mere 32 races for 3 trainers. His last registered trainer was J Fenwick who raced a total of 20 dogs that day at Newcastle and Shambo Shine's last registered owner was P Clark. As the presenter states - "It was a good race for the bookmakers" - which is all that matters in the cruel business of dog racing.
Rest in Peace Shambo Shine x
02.08.13
Not content with the caring public financing the RGT's homing of racing greyhounds deemed no longer profitable – presently to the tune of 50% – Peter Laurie CEO of the industry's Retired Greyhound Trust wants to see the public dig deeper so the poor bookmakers who make millions of pounds profit on dog racing pay less!.
Click here for full article Old Graders don't just fade away.
20.07.13
On Saturday 20th July while many advocates were respectfully remembering the thousands of greyhounds that have been used - abused and destroyed since racing began in 1926 - Duke Box Jura left the traps for the last time. After breaking his leg at Peterborough dog track's first bend - the black and white 2 year old male was swiftly destroyed - deemed of no further commercial value.
Run Free - Run Fast Jura.......x

20.07.13
Greyhound Remembrance weekend 2013
19.07.13
On July 19th at Sunderland dog track - owned by William Hill bookmakers - Baby Corey (a 3 year old blue male) DID NOT FINISH and had to be carried off the track. Sunderland racing office declined to answer questions on Baby Corey's fate. His trainer confirmed "he would definitely not race again" although Baby Corey "did not need to be rehomed". A survey conducted by the Society of Greyhound Veterinarians concluded "An average of 30 greyhounds per year were euthanised at each track" This would calculate to an estimated 750 greyhounds destroyed annually at the 25 GBGB tracks.
Rest gently in peace Baby Corey
15.07.13
Professional Trainer Charlie Lister OBE has two greyhounds destroyed in the space of just 7 weeks
12.07.13
Today marks the 7th anniversary of the deaths of Clash Nitro and Rent A Flyer who were brutally slaughtered in Seaham County Durham - along with an estimated 10,000 innocent souls. Click here for details of the Seaham Slaughter



May they all Rest Gently in Peace x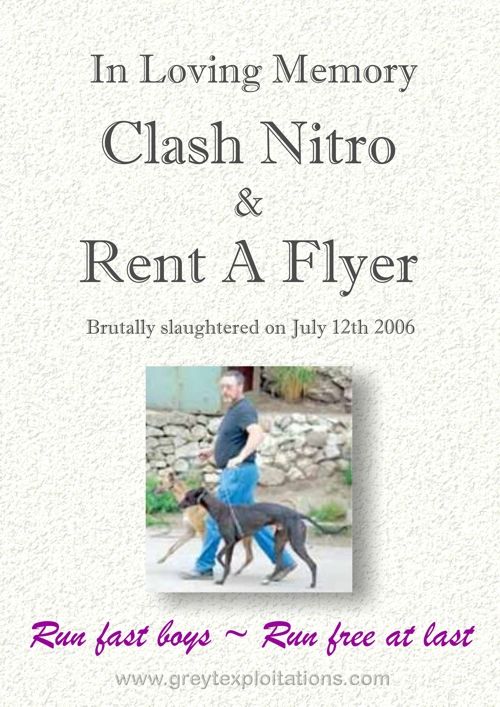 05.07.13
Many thanks to the Airdrie and Coatbridge Advertiser who showed their support for the dogs with a great article covering our recent rally at Drumpellier Park.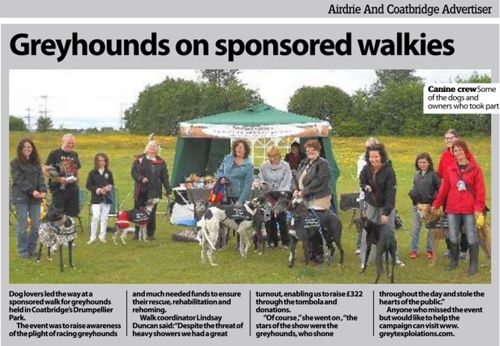 30.06.13
Harry Findlay responds to questions regarding injuries and the fate/fortune of South Pacific who last raced at Coventry dog track.
http://youtu.be/pZ9t3LtlK7o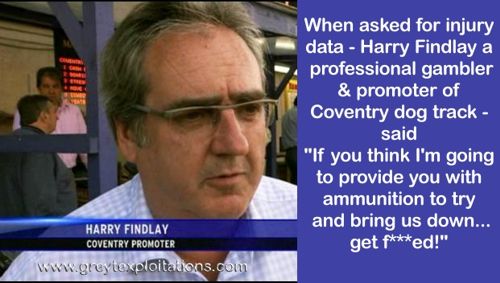 28.06.13.
Monstrous animal abusers have hacked the ears off a young greyhound before dumping him at the side of a road. For full report please click

HERE
25.06.13.
It has been announced that Wheatley Hill dog track- an independent track in the North East of England - is to close until further notice.
"AFTER FRIDAY 28TH OF JUNE WHEATLEY HILL WILL BE CLOSED FOR RACING TILL FURTHER NOTICE THANK YOU"
16.06.13
Last night at Ladbrokes owned Crayford dog track - Lynton The Daddy DID NOT FINISH after going lame at the first bend. The 2 year old male puppy had to be carried off but one can only guess whether his 'owners' the Tilbury Lads Syndicate spared his life and afforded Lynton veterinary care.
10.06.13
Fiona Hall - leader of the Liberal Democrat European Parliamentary Party - signs Written Declaration 0006/2013 calling for an end to greyhound cruelty. Full article here Call to end greyhound cruelty
05.06.13
Was the FIRST bend the LAST for Inishowen Strike? We will never know because the industry refuse to publish injury and destruction statistics.
05.06.13
Good news comes from the industry's own homing group - the Retired Greyhound Trust - who are reporting that homings are up compared to figures for the same period last year. But by only managing to 'find homes' for approximately 4,000 greyhounds annually - they still have a long long way to go in order for them to take full responsibility for the 9,000 greyhounds that are deemed no longer suitable as a 'betting product' every year. Read more here - Re-homings up as Events Boost RGT Profile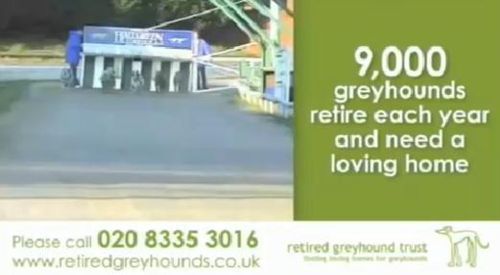 03.06.13
Greyt Exploitations will be hosting a Greyhound Rally and Sponsored Walk at Drumpellier Park on Sunday 23rd June at 12pm. If you live in the Glasgow/Lanarkshire area – please join us and help raise funds for your chosen dog rescue or advocacy group. Free hound hugs all round!
31.05.13.
A message from Marc and Lettie pictured here with their greyhounds. "People always give our greyhounds lots of fuss when we are away on holiday. They are getting even more attention with their new vests as people come close to see what they say. Mum says that me and Lettie are good at telling people what great pets greyhounds are and she and dad keeping telling people about how cruel greyhound racing is. People seem interested and mum gives out the leaflets. We think the vests are a great idea!"
Niki Lee also uses her artistic talents to raise money for dog rescues. You can view her crafts on Facebook here Bubblegum and Buttons

Huge thanks to the Lee family and hugs to those gorgeous hounds - Lady and Jo....you're doing great guys!
31.05.13
Chairman of the Greyhound Trainers Association - Ricky Holloway - admits just how desperate times are for the industry. "Trainers in this land are in crisis and many kennel hands cannot afford to live on the poor wages. Prize money is still low with little or no increase and owners are leaving the sport". Read more in the GTA News
23.05.13
Mikeys Man - a 2 year old puppy DID NOT FINISH his race at Monmore dog track. The race comments state he 'BROKE DOWN' in what was only his 3rd race.
22.05.13
The absolute cruelness of the racing industry exposes itself again - as South Pacific a 3 year old brindle female greyhound DID NOT FINISH and had to be carried off Coventry dog track last night.
21.05.13
Humane Research Australia publish details of twelve greyhounds subjected to invasive surgery without general anaesthesia or any form of sedation. For full article please click here Invasive Surgery Conducted on Concious Greyhounds.
14.05.13
Following the recent court case where the Irish authorities failed to prosecute the killers of 6 greyhounds found dumped in a quarry on the outskirts of Limerick - the Gorey Guardian reports that 9 dead greyhounds have been found dumped in a farmers field. Click here for full story 'Farmers sickening find - 9 dead greyhounds'
06.05.13
Introducing the new Dog Walkers Awareness pack - specifically designed for dog walkers to help promote greyhounds as companion animals and raise awareness. Click her for full details and how to order 'Dog Walkers Awareness Pack'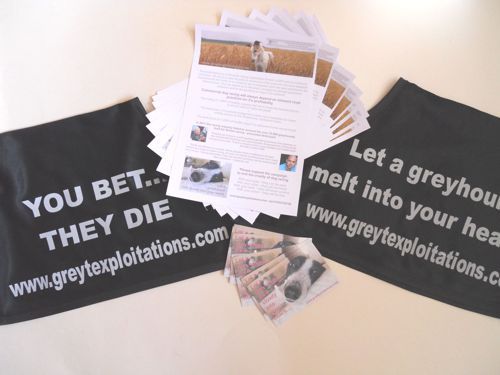 02.05.13
John Corkerey - the owner of the greyhounds that were shot and dumped in a quarry in County Limerick refused to tell gardai who killed the animals - claiming he saw "no problem shooting a dog in the head", and stated that "it's just the same as injecting them. It's all over in seconds". Full article can be read here "Greyhounds shot and dumped in Limerick quarry after poor trials"
25.04.13
Chris Helgren - a Reuters staff photographer and editor - has completed a project for his MA course in photojournalism and documentary photography at London College of Communication. As part of that project Chris made a video - 'Welfare managers discuss the problems of re-homing greyhounds' - inviting opinions from those who have a vested interest in the continuation of dog racing and those who have not. Full details here Where are all the Dogs?
23.04.13
Rest gently 'Listen To This'
19.04.13
Vigils were held across Ireland and candles were lit globally in remembrance of the Limerick quarry dogs. Please click here for news item - Greyhound Grave - Limerick
15.04.13
Greytexploitations Facebook auction finishes - raising a huge £2,212 for the greyhounds! Many thanks for the overwhelming support.
07.04.13.
Chris Helgren - a Reuters staff photographer and editor - has completed a project for his MA course in photojournalism and documentary photography at London College of Communication. As part of that project Chris made a video - 'Welfare managers discuss the problems of re-homing greyhounds' - inviting opinions from those who have a vested interest in the continuation of dog racing and those who have not. The video also touches briefly on why the industry is in decline. Please click here for full article - Where are all the dogs?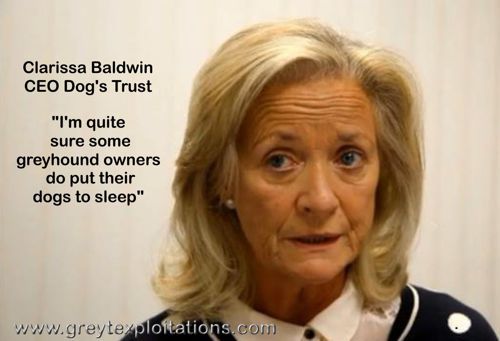 01.04.13.
Oh Happy Grey celebrates their 1st Birthday on Facebook - accumulating a massive following of over 22,000!
28.03.13
It has been confirmed that Kokoro - the 2 year old brindle male that was knocked over last night at Yarmouth dog track and broadcast live on Sky Sports has been put to sleep.

His 'trainer' Chris Allsopp said "Very sad night in the end. Kokoro had to be put to sleep after X Rays shown a brake compressed vertebras In the neck. He was in shocking pain"


Run fast ~ Run free at last Kokoro
01.06.10 – 27.03.13 (not even 3 years old)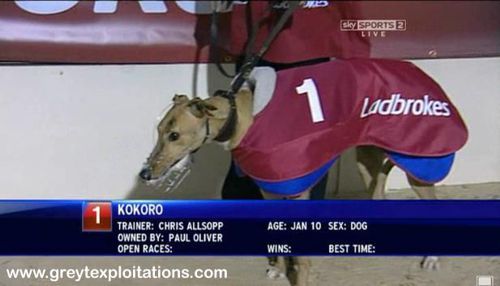 28.03.13
Last night Sky Sports broadcast live coverage of dog racing from Yarmouth. Having been knocked down and sustaining an injury at the first bend - Kokoro - a 2 year old brindle male did not finish. Ballycowen Dave was also brought down at the first bend.

Due to the dangerous configuration of the tracks the first bend is often the last.

Please email Sky Sports and politely raise your concerns regarding their coverage and support of a cruel gambling industry. https://contactus.sky.com/tv/complaints/email/complaints

Thank you for your care and compassion for the greyhounds.
26.03.13
More abuse of this gentle breed. Mr T was hit over the head during a non accidental incident - fracturing his skull and causing multiple brain bleeds. Mr T has been cared for at the Animal Health Trust - Newmarket where he underwent brain surgery. The bill is currently around £3,000 - if you like to help with Mr T's care - you can make a donation here - thank you!
https://mydonate.bt.com/ fundraisers/ greyhoundsurgery
22.03.13
Owlerton dog track in Sheffield posted a notice on their Facebook page - cancelling the Stock Car racing due to adverse weather conditions but assured its readers that the greyhound race meetings would take place as normal. Proof if ever it was needed of the industry's total disregard for the welfare of greyhounds!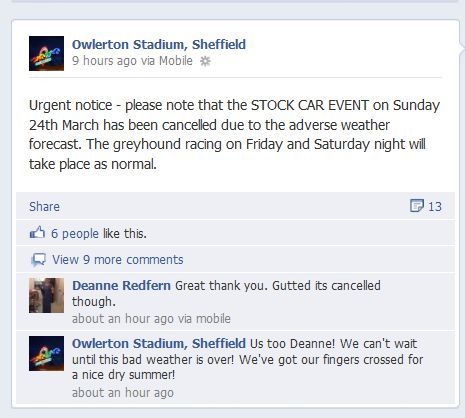 13.03.13.
Directors of Limerick dog track resign over disputes with the Irish Greyhound Board. Operating losses doubled in 2011 and the track is struggling to attract crowds.
Click here to read more - Limerick directors resign over issues with IGB
09.03.13.
Tonight at Crayford dog track 'Butterbridge Og' - a 20 month old brindle female puppy - DID NOT FINISH.
It was only her 2nd race and more likely will have been her last.
06.03.13.
Excellent article featuring Tia Greyhound and Lurcher Rescue. Founder Deb Rothery says "I started 15 years ago and it's worse (now). I have just short of 100 dogs here at the minute and if I re-homed all these dogs here today, I could fill again tomorrow"
Click here to read the full article UK greyhounds seen at risk as racing industry declines
06.03.13
The Greyhound Rescue Association of Ireland feature on national television - raising much need awareness for the Irish greyhounds.
24.02.13.
The Irish Greyhound Board's CEO Adrian Neilan demands more money from British bookmakers - claiming that "The market for exporting greyhounds to Britain is on its knees with the price of them falling steadily, and it's now worth a fraction of what it was previously worth"
Article published in the Racing post 18th February but full transcript can be read here Neilan Issues Cash Call to British bookmakers
23.02.13.
The campaign to end dog racing at Manchester's Belle Vue stadium attracted 37 peaceful protesters on Saturday 23rd February. Students from Manchester University capture the passion of this determined group in this short documentary.
17.02.13
Shocking news! The Sunday Star reports that the Food Standards Agency refuse to test for canine DNA in human grade meat products - simply because it believes "There are no slaughterhouses in the UK which are approved to slaughter dogs"
The slaughtering of greyhounds by captive bolt gun is perfectly legal and condoned by the Greyhound Board of Great Britain. This cruel form of destruction has been exposed in the media on many occasions in recent years - more recently by The Sunday Times where an approved DEFRA slaughterhouse was systematically destroying ex racing greyhounds.
Click here to read more Food Agency Wont Act on Greyhound Worry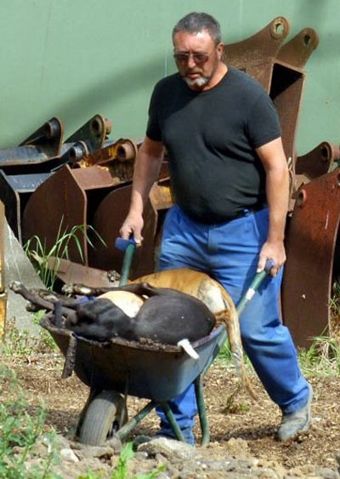 David Smith slaughtered an estimated 10,000 greyhounds for the racing industry
09.02.13
Encouraging news - changes in gambling habits may kill off dog racing for good reports The Economist. "Since 2008 the gross yield ( a measure of profit) generated by betting on the dogs in bookmakers has fallen by 20% to £240m according to data from the gambling commission, the industry regulator"
"Greyhounds are less important to the bookies than ever" Click here for full article The Final Flutter
27.01.13.
On the eve of the GBGB's Awards night where the industry will be wining and dining at the four star Lancaster Hotel in central London - costing £72 per head - it is encouraging to read that trainer registrations have fallen by just over 5% from 884 to 839. Please spare a thought for the dogs that will be confined to dark - damp and unheated wooden sheds on this cold winter's night - a situation the industry were rightfully reminded of when they opened their Sunday papers on the morning of last year's Awards in an article headed Dog Kennels Branded Disgusting.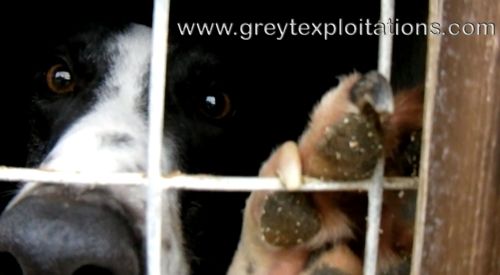 25.01.13.
'Gentleman' Jim was bred for the racing industry but suffered abuse and neglect simply because he was considered unsuitable as a racer and therefore a financial liability. Found weighing only 16 kilos - this poor boy has earned the title 'gentleman' because of his extremely passive nature. If you are interested in offering Jim a forever loving home - please contact Lurcher SOS Sighthound Rescue.
24.01.13
GREY2K USA reports that the betting revenue at China's Macau dog track has fallen by 31% following an international campaign. For full article please click here Dog Racing Revenue at Macau Track Drops by a Staggering 31%
21.01.13
Due to severe weather conditions and below freezing temperatures - at least 11 tracks across the country cancelled last Friday's and Saturday's race meetings. Among those that continued with meetings were of course the 6 bookmaker owned tracks to include William Hill's Sunderland and Newcastle tracks that feature on Racing Post TV. For full report please click here Frozen Tracks.
Does this look like 'welfare is top priority'?
15.01.13
A greyhound discarded by the racing industry - deemed no longer profitable - has been found suffering from Leukaemia - horrendous gum disease - covered in sores and in a severely emaciated state.
'Lass' a nine year old female was too sick to undergo chemotherapy and had to be put too sleep by the RSPCA.
Full story can be read here Padiham greyhound owner fined £330
12.01.13
Is the end nigh for dog racing?
Excellent article from the BBC questioning "With greyhound tracks shutting down all over the country is the finish line in sight for dog racing?"
"The closure of Oxford's circuit last month was the final nail in the coffin for the sport in central Southern England with all of its four tracks now shut.
Many others are struggling to keep going, as the number of stadiums has dropped from around 80 to 25 in England over the past 65 years."
Click here for full story Is the end nigh for dog racing.
08.01.13.
Just 7 days into the new year and Tia Greyhound and Lurcher Rescue are already taking in dog number 13.
Ciarans Socks - a 5 year old male - was last raced in April 2012 and then given away 'free to good home' by Sheffield trainer Martin Cutler.
Unable to care for Ciarans Socks - the new owner asked Cutler to take him back but he refused.
Cutler's abandonment of Ciarans Socks complies with the industry's Rules of Racing. However - Cutler had previously been disciplined over an all important betting integrity issue when he doped a dog in his 'care' in 2010.
Ciarans Socks - discarded by the racing industry - is now in the care of Tia. If you would like to help more dogs like Ciarans Socks and support Tia - please click here Tia Greyhound and Lurcher Rescue.
07.01.13
Excellent letter printed in the Oxford Mail - written by Greyhound Crusader's Helen Stevens. Read more and for the opportunity to comment here - thank you! Racing is a Moral Issue
04.01.13
Trainer registrations continue to fall at the rate of 10% with only 812 trainers renewing their licence but puppies that 'made the grade' and registered to race in 2012 remain the same at approximately 8,000. Read more here Trainer Registrations continue to fall.
02.01.13
Yahoo News covers the decline of dog racing in Florida - click here to watch the video Greyhound Racing : the steep decline of an old favourite
29.12.12
CAGED North West release a video of a trainer forcing a greyhound in their 'care' to swim. Despite the dog being clearly distressed - onlookers find it laughable to see the dog go under and near drown.
29.12.12.
Oxford dog track closes tonight - a track that will have been responsible for the deaths of 1,000's of greyhounds over the years.
Aintsheapeach was just one of those dogs who was destroyed track side after breaking her hock on the deadly 1st bend.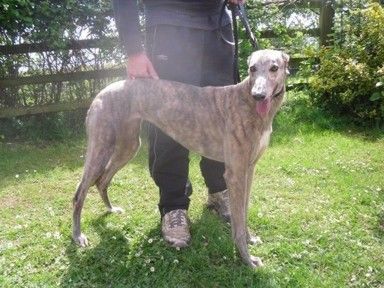 Rest gently in peace Aintsheapeach